[Hate or go home, kids. - RUTS]
Here it is: the Big One to the Buckeyes/Wolverines Big Two, the most earth-shaking of rivalries, the one that makes the movie "2012" look like a Sunday evening cake walk, the bloody series that puts the "iv" in "rivalry".  IT'S LAND GRANT TROPHY WEEK!  The regular season hate reaches its apex now, where the storied rivalry between these two schools descends into a maelstrom of pain, passion, and anger.  Hate Week Michigan State never ends!
The Breakdown:
WHO

Is Sparty grabbing the statues... uh??? Hmm. So help me, I don't know where the other hand is about to go, but I'm guessing it's some sort of "Sword and the Stone" thing.
WHO: The Michigan State Spartans.  One of the oldest rivalries in the Big Ten since 1993, the Spartans represent everything we hold dear except the opposite of that.  Once again, Michigan State has nothing to play for in this series.  Michigan State has faltered after contenting for the Big Ten title last year (how did that 2008 game end up, Sparty?) and now stands at 6-5 in the regular season, and is playing for the chance to represent the Big Ten in the Champs Sports Bowl.  Whoopee.

If their coach was a West German music act from the late '70s/early '80s:
Guess the decade?


Sixth in a six-part series, but be prepared for some postseason hate. Why "Love System" by italo West German group The Twins? Remember MSU head coach Mark Dantonio's decision to spend two time outs at the end of last year's game?  Well, this is the only thing more LAME than that.
WHAT
WHAT:  The Land Grant Trophy.  A trophy that was created by the same man who coined the "Little Caesars Pizza Pizza Bowl."  That man was MSU coaching legend George Perles.  Never heard of him?  Me neither--some legend.  As it stands, we are the only annual rivalry with a trophy featuring 1970s den shelves.  A 2008 move to rechristen it the Abe Lincoln Land Grant trophy faltered, but the effort did end up with the unexpected result of becoming the primary source of inspiration behind the new Northwestern-Illinois "Land of Lincoln" Trophy, which is just a bronze top hat.
Secondary Source of Inspiration for the Land of Lincoln Trophy.  Pennsylvania Avenue is worth more.


Although the trophy itself isn't worthy of this great rivalry, I want to stress that we do not belittle the Land Grant game itself--for this game should mean something more than ourselves.  I propose that this series evolve, that we not only represent Penn State in this series, but all Land Grant institutions south and east of Detroit:


BIG PICTURE! What the Land Grant Trophy represents.  Suck it, Utah State University!

This has already become a sensation that crosses ten time zones and dozens of land grant institutions.  Pictured here is the pandemonium surrounding the PSU-MSU pep rally on Monday at the University of the Virgin Islands.  We Are!


We can't let 'em down.  The Land Grant Trophy belongs here in the East!
WHERE
A proud couple standing at Nuremburg in the 1930s Lansing in the 2000s.  Seriously, that's a whacked out statue.  Did the ancient Spartans have no floating ribs and have poptarts for abs too?
Source: Scott Stetson Photography, I guess.
WHERE:  Lansing.  Screw their pretentious, "it's East Lansing.  If you don't say 'East Lansing' you're clearly an outsider."  Whatever--like it's supposed to embarrass me that I'm not from Michigan?  Lansinglansinglansinglansing! You can easily see the State Capitol of Michigan while standing in East Lansing, so it's not like it's a massive mistake.  Perhaps MSU students, alumni, and professors are ashamed of the Capitol, ashamed of their state and all it represents.  MSU = unamerican?  Hate Week reports, you decide.
WHEN
Pretty sure it's on Saturday.



WHEN: So help me I don't know.  Every time I put a time and a channel in one of these posts I get it wrong some how.  How about I just say it's this Saturday?  Seems like a safe bet.  Since it's November, it won't be a night game, so just hit the "Guide" button on your remote and figure it out.  I hate the TV networks waffling about on where they put teams until a week or two before the game actually occurs.  Let's make it easy: in my unbiased opinion Penn State should be primetime, everytime.
WHY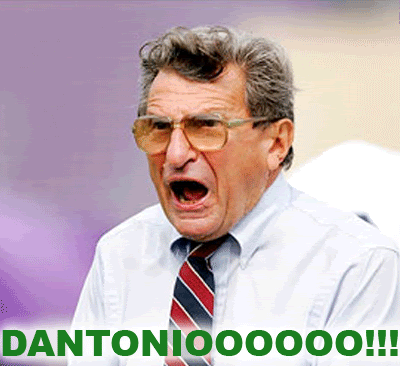 JoePa after the 2007 loss. It. IS. ON.


WHY: Everything about this series is irritating. PSU owns the Spartans with a 12-4 overall record, but even in the Dark Years PSU went 4-1 and averaged 38.4 points per game in the series--capped with a 61-7 beatdown where Larry Johnson, Jr. turned the MSU defense into a walking Twitter post. A John L. Smith collapse was as reliable a November event as Thanksgiving falling on a Thursday. After watching the team put up 38+ points, most of us left the game/TV station scratching our heads going, "Where the hell was that all season long?"
Still, you could hardly choose worse years for the remaining three losses to occur. The 1997 loss cost us a berth in a BCS (technically Bowl Alliance) Bowl, the 1999 loss ended the worst season slide since 1914 and put a team that was #2 at the beginning of November in the Alamo Bowl, the 2007 loss was a monumental collapse that sealed He Who Formerly Could Not Be Named's position in the doghouse of Penn State QB lore. Ohhh, that game suuuuucked. It also began the irritating rise of Mark Dantonio, pictured below:
DANTONIKHAAAAAAAAAAN!!!!!

This series has devolved into an endless sequence of beatdowns, occassionally punctuated with a devastating loss.  It's the worst of rhythms as you're stuck somewhere between a PSU-Temple lopsided speedbump and a quality rivalry.  So where are we?  Stuck with a mediocre rivalry when an end-of-season game against Pitt or Wisconsin would be ten times as compelling.  I hate MSU for being content with mediocrity.  I hate Michigan State for never bringing anything to the table but leftovers.  I hate Michigan State for making me sleep halfway trhough the game when I want to be entertained, and making me pull out my hair when I just want an easy win.  I hate Michigan State for claiming it's a football school when every November the basketball program is the only thing on everyone's minds.  I like the good-natured fans at Iowa, Michigan, and Ohio State--because deep down I know they want to see us openly weeping at the end of the game.  I hate good-natured Michigan State fans because, deep down, it's just a nice way to spend a Saturday. In short: I hate MSU for just being MSU.  HATE! HATE! HATE!