via Bitsy Cairns
It might not be the most popular sport on Penn State's campus, but rugby is something that PSU has been very good at, and for quite a long time.
While the Men don't have any national championships to their name (to be fair, PSU Berks won a D-III title in 2010), they have had their share of All-Americans, a current starter on the US National Team (I believe he's still on the team, anyway), and 6 runner-up finishes. But, they are a perennial playoff team, and are usually one of the top, if not the top, eastern team.
The women, however, have a much more illustrious history. Since the onset of Division 1 women's rugby championships in 1991, PSU had (up until this weekend) appeared in 15 out of 21 finals match ups, won 6 of them, and only failed to make the final once since 1995. They've been a top-3 finisher every year since 1993. Frankly, you could make the argument that the Lady Ruggers are the most historically dominant team on campus.
Over the past two weekends, both the Men's and Women's rugby teams' seasons came to an end. It went better for the Women than it did for the Men... much, much better.
On Saturday, May 5th, the Men traveled down to Marieta, GA to face of against Life University. Life has an interesting history, which I detailed (along with a brief match preview) in a comment:
Life University played against Men's clubs for most of the 90s, then played in the US Rugby Super League from 1997 to 2002— THE premiere rugby league in the U.S. And they didn't get blown out— they won a national title in 2000 before returning to collegiate rugby recently. They're undefeated this year, and have won matches by an average score of 68-7. Basically… our men need to play hard, smart, mistake-free rugby… and get a few lucky bounces.
Well, uh, that didn't happen. If you can handle the pain, the highlights are here. PSU actually jumped (hopped?) out to a 3-0 lead off a Joe Baker penalty kick, but from that point on, it was a full-on bed-shitting.
Life ran off 75 unanswered points... which would remain unanswered. PSU's big guys played well enough, but the sir (referee, for all you non-ruggers) was calling offsides infractions very, very tightly, which became problematic. Life likes to get the ball outside to their backs, so PSU was trying to counter that by flying upfield as fast as possible to apply pressure. It worked initially, but once the sir started whistling more and more often, PSU got less aggressive, and Life ran away with the match. Literally. Some poor open-field tackling, tired legs, and, frankly, some excellent and fundamentally sound open-field running and offloads in contact by Life were big factors as well.
The women had a decidedly less bed-shitty weekend.
They started off the weekend on Friday with a convincing 46-15 win over BYU in the semi-final round. They then met Stanford in the final on Saturday... again. These two teams have been matched up in the final every year except one since 2005, with the split at 3 wins a piece. Penn State's biggest advantage? Fresh legs. PSU has just about unequaled depth, so throughout the playoffs they rarely need to keep their starting 15 on the field and usually max out their substitutions each game. And even then, that's if they even play some of their starters in the earlier rounds. Like I said, this team is DEEP.
The match started slowly between PSU and Stanford, with hard tackling and physical play. For about 25 minutes, the game was scoreless. Stanford struck first, gaining a numbers advantage to one side of the field to take a 5-0 lead. The Lady Ruggers struck back on their very next phase, though, to tie the game at 5-5 on a game-MVP Kasey Ferlic pass to All-American Sadie Anderson. Another Stanford score (plus conversion this time) and an uncoverted try from Ferlic (she was EVERYWHERE) had PSU going into the half down 12-10.
In true Penn State fashion, the game started to turn to favor the physical, smart, crisp play of our Lady Ruggers. The pack was flat-out dominant in the second half, pushing and wheeling and making life hell for the opposing pack. The backs clamped down on the speed that Stanford possessed on the outside by HARD, sound tackling.
The pack for Penn State just kept running pack-and-go after pick-and-go (the equivalent to running a fullback lead up the middle in football, you could say), and pinned Stanford down near their try line early in the second half. With the defense bunched in to prevent the pick-and-gos, a quick pass out to Ferlic allowed her to scamper in easily for another try. 15-12 PSU.
Anderson would score another try in much the same fashion (picture that drive against Iowa, followed by the play-action to the TE for the touchdown.. that's the kind of physical dominance and strategy we're talking about here). Christiane Pheil would score a try of her own when the PSU scrum pushed over the Stanford try line.
But it was the last try of the game that was the most impressive. Stanford was backed up against their own try line (again), but owned possession of a scrum. They inserted the ball and tried to drive over.. but didn't. They started moving backwards as the PSU pack surged forward, shoving them backwards over their own ball. PSU took possession within Stanford's own scoring zone and touched the already-grounded ball for their final score.
32-12 was the final to send PSU to their 7th national championship. I still know a handful of the Lady Ruggers, and I can tell you this was much-deserved for the hard work they put in year-round. Congratulations to all of them, and here's to working towards your 8th championship next year!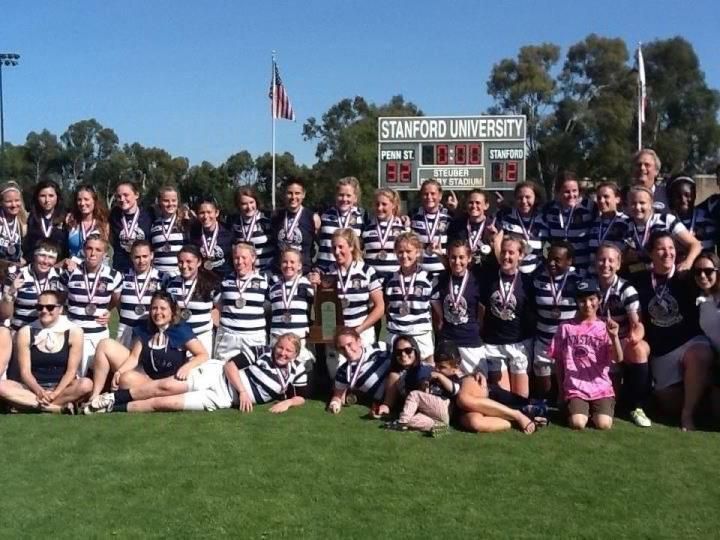 via Rugby Mag