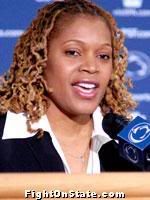 -Penn State gets New Coach
Former Notre Dame assistant Coquese Washington was introduced as Penn State's new women's basketball coach Monday. The press gave her little leeway and asked the tough questions immediately: Queried on being a black woman in a profession woefully bereft of black women, she replied, "I'm proud to be here at a university of this magnitude. I recognize I will be a role model." Later, she was asked if she felt she needed to address the charges of homophobia that rose against the program during Portland's tenure. "I'd simply say my ideals and values run in line with the university's values," Washington responded with an earnest smile. "I don't see that being a problem."
I know what you're thinking: it's pronounced "ko-KWEES." Learn it because it sounds like Penn State fans are going to be seeing a lot of Coquese for a very long time. Welcome to the family Mrs. Washington.
-Checkmate
We (BSD & TNL) along with RUTS have been using this off time to ruffle a few feathers when we unanimously agreed that Penn State doesn't need Pitt on the schedule. You can get our arguments here, here, and here. Of course we angered our in-state "rivals" when we suggested that Pitt simply wasn't a big time program and Penn State gets absolutely nothing by playing Pitt, just check out the comment section of Black Shoe Diaries' story - the trolls were out in force. Pitt fans fired back with lame arguments about alumni size, PSU's record from 2000 - 2004, and the odd Paterno's an old coot insult, but really they have nothing to back it up. Dennis of Pitt Blather put up a good argument, but again, there just isn't any substance to the argument.
Well BIG hat tip to Run at RUTS because he has found the final blow. Verbal commit Mike Cruz who once called Pitt his "dream school" is now having second thoughts after schools like Florida State and Notre Dame came calling. Cruz said his mother, Martha Bernard, "likes the closed-campus college atmosphere, not the big city" and that "everyone feels that I can go (to a program) way bigger and better" than Pitt. Cruz said the atmosphere at Pitt's Blue-Gold Game, which drew a crowd of only 2,103 to Heinz Field on April 14, caused him to reconsider and look at other programs. "It was kind of an 80-20 thing," Cruz said, "80 percent wanting to keep my options open and 20 percent seeing that they really don't have a great fan base...When I went down to another college, it opened my eyes. As of right now, I don't have a top choice."
Hey Pitt fans: checkmate.