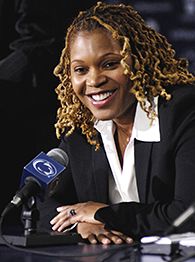 I mentioned earlier this week Penn State introduced their new women's Basketball coach Coquese Washington, so let's take a closer look at who exactly Coquese is. Washington was a former player (1989-93), law-school grad (1997) and assistant (1999-2007) at Notre Dame. Not only did she play in the WNBA, but was founding president of the WNBA Players' Association from 1999-2001, then executive vice president of the players' union from 2001-2003 and the player rep because of her law degree.
Notre Dame head coach Muffet McGraw has plenty of sparkling things to say about Coquese. "I kept telling her, 'you're too smart to be in coaching,' " McGraw said, "She has a really interesting background that makes her very analytical. She is very, very calm and poised under pressure. She never has emotional flare-ups; she's incredibly steady. Her demeanor is amazing. She will step back and examine things, but she's quick on her feet, too." Washington said her "calmness" comes both from her natural personality and her law training.
She played point guard for the Irish, and McGraw will tell you that like a lot of coaches, she is hardest on her point guards. But she also respects those players, and she said she saw early on in Washington all the elements that could make her a good head coach. Washington thought coaching was just something to keep her in shape while playing in the WNBA and she felt that once her playing days were over she would be practicing law full time. But it wasn't long until she fell in love with the teaching aspect of it - sound eerily familiar to anyone else we know? The difference between Mr. Paterno and Coquese is that she HAS her law degree; yeah I'm calling you out Joe you quitter (of course I jest).
Expect to rattler her in a press conference? I think not, that law degree will serve her well when the tough questions are asked. When asked about the debacle of an ending to Portland's career Mrs. Washington answers like a seasoned veteran.
"Her history, starting from Immaculata and getting women's basketball off the ground -- I don't think you can sweep that under the rug because of the recent issues," Washington said. "I don't think it's fair to forget about the accomplishments and the things she did for the game."
Washington brings a completely different dynamic to Penn State.
"Because the two head coaches are different people. I came of age of 1980s inner city, and that's completely different than when Rene Portland came of age. So we're going to have two different personalities and perspectives, but I think we have in common the desire to be successful. And the desire to have young women come to Penn State University and leave having had the best basketball, the best social and the best academic experience they could have had."
This was the best possible fit for Penn State, she has the pedigree to be a leader and more importantly brings something the Athletic Department sorely needed: a fresh start. Instead of hiring someone with connections to the program Penn State went an entirely different direction than they usually do and it appears they hit the jackpot. Welcome to the family Coquese.
(HT: Nick) You can get the full ESPN article here.