In some of the darkest days of our republic, when the Articles of Confederation had failed as America's first constitution and the Founding Fathers were trying to figure out how to keep the country together, future president George Washington sat in the chair you see below while presiding over the Constitutional Convention.
After months of hardship, the new Constitution was signed on September 17, 1787.  On that day, James Madison tells us that Ben Franklin said of the chair, "I have often looked at that picture behind the president without being able to tell whether it was a rising or setting sun. Now at length I have the happiness to know that it is indeed a rising, not a setting sun."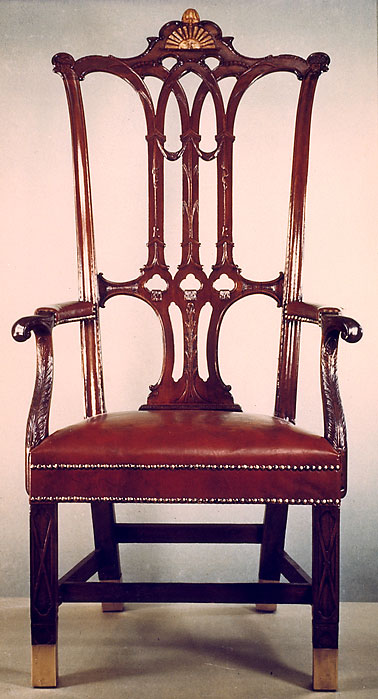 http://www.ushistory.org/more/images/rising-sun-chair.jpg
Today, Penn State basketball fans are Ben Franklin, trying to figure out whether the departures of Chris Babb, Bill Edwards, Adam Highberger, and Andrew Ott are part of the problem with the Penn State basketball program, or part of the solution.
There are those that will say Saturday's news is a sign that coach Ed DeChellis has lost the program.  After seven years, DeChellishas not only failed to produce an NCAA Tournament appearance, but he's lost the faith of the very players who he was counting on to help turn things around in 2011 and beyond.  With most of the prospects in the class of 2010 already signed, DeChellis is going to be scraping the bottom of the recruiting barrel to fill the four newly vacated scholarships for 2011 before he even begins to think about replacing one of the best (albeit underachieving) senior classes the program has seen in recent years heading into 2012.  Worst of all, prized recruit Taran Buie is rumored to be unhappy, and he's the one person Penn State basketball can't afford to have upset.
Then there are those who will look at the situation and still doubt things are as bad as others might think. Both Highberger and Ott are graduating and likely have little future in basketball after college.  Their departures probably have more to do with a desire to move on in their professional lives rather than dissatisfaction with the program.  Babb was a streaky three point shooter who can be easily replaced at the starting two spot by an improved Tim Frazier and/or an emerging Buie.  And while Edwards was a young player with a lot of promise, he likely would have remained in a bench role in 2011 behind David Jackson and Jeff Brooks, and his loss could be mitigated by a junior college transfer with more experience and polish who'd be better suited to help Penn State in 2011 than the will-be sophomore Edwards.
The truth of the matter is that at this moment, Penn State is a lot worse off than it was a little over a week ago when it ended an 11-20 2010 with a loss to Minnesota in the Big Ten Tournament.  Short term, Penn State severely lacks depth at forward and a proven outside threat to open things up for Talor Battle.  Long term, it's faced with the cold, hard reality of having only a handfull of players, three on the current roster and three committed recruits, in the fold for the 2011-2012 season and beyond.
However, it's important to remember that the players leaving the program now are still the same ones who had roles in Penn State finishing last in the Big Ten in 2010.  Of course, we'll never know how the transfers and early  graduates could have contributed to the 2011 squad or how they'd have turned out had they chosen to play out their careers at Penn State.  What we do know is that these players have already proven they can fail as part of the team, and even if all four showed modest improvement in 2011, there's still no promise that Penn State would have come anywhere close to the goal of an NCAA Tournament berth.  DeChellis now has the flexibility to repair this last place roster, rather than pray it heals on its own.
Ultimately, Saturday's developments are only going to further polarize what was already a very toxic discussion of the future of Penn State basketball.  Unfortunately for both sides, the departures have done little to resolve things one way or the other.  Penn State could get worse.  Penn State could get better.  Penn State could stay the same.
All we can do as fans is sit, wait, and wonder like a wise old man did hundreds of years ago about America's future whether Saturday's changes will lead to the rise or set of the Ed DeChellis era at Penn State.
*****************************************************************************************************************************
This week, the search for replacements on the roster for the departed players begins.  So who are some of the remaining Class of 2010 targets Penn State is known to be interested in, and how interested are these players in Penn State?
According to Penn State Hoops, the Nittany Lions are known to have made offers to at least three players already, and several more are listed as targets. 
Offered
-Kendall Durant-Durant is a 6'3" junior college point guard out of Weatherford, Texas.  He committed to Virginia Tech during his initial recruitment in 2007, but failed to qualify academically and never enrolled there.  According to Rivals, he has offers from five other schools including Virginia Tech, Virginia Commonwealth, and South Carolina.
-Dwight McCombs-McCombs is a 6'8" junior college power forward out of Chicago.
Chicago Hoops.com reported March 9
McCombs is seeing his recruiting skyrocket. "It's really picking up right now. I've got it down to a certain number of schools. There are probably six high-major, and six mid-major schools in the mix. I'm going on my three official visits soon. I plan on taking one to Arkansas, one to South Alabama, and the third isn't decided yet. I'm probably going to take unofficial visits to Minnesota, Middle Tennessee State, Penn State, and Missouri. I may change my mind and give one of them my last official visit," said McCombs.

McCombs is not in a rush to make a decision, but wants to have a decision made by April 15th. However, he also notes that if he finds the right school before then, that he will not hesistate to pull the trigger and make a commitment.
The site describes McCombsas a "double-double machine," so take that for what it's worth.
-Tyler Olander-Olander is a 6'8" forward from Storrs, Conn.  Rivals does not list Penn State as in the running for Olander, but The 22,000+ said March 10:
Olander doesn't have Penn State in his Top 3, but he has said his feelings towards Penn State are growing stronger.

 As you can see, both recruits have a pretty solid list of schools they're interested in and vise-versa. Tyler Olander has already been offered a scholarship, and now that he might have the chance to take Penn State up on their offer it should be interesting to see what he does next. He is however a strong UConn lean, so Penn State has a hill to climb. The longer this goes on, the more likely the roster spots will be filled by transfer players.
Of the three, Olander is probably the least likely to land at Penn State, but Saturday's developments may have opened the door for minutes he might not see at Connecticut or elsewhere, so who knows if things might change.
Unoffered/Unknown
-Eric McKnight-McKnight is a PF/C out of Bowie, Maryland, and is considered another long shot for Penn State.  However, as with Olander, Saturday's departures might be a game changer.
Multiple sources including the Centre Daily Times and Baltimore Sun have linked McKnight to Penn State, so he's a player to keep an eye on in the days and weeks to come.
-Orlando Walker-Walker is a 6'3" junior college shooting guard out of Lynchburg, Tenn.  There isn't much information readily available on Walker, but according to Rivals, he's said to have "high" interest in Penn State, Marquette, and Davidson.
Fortunately for Penn State, Marquette's class is already loaded with guards, and Davidson has already landed point guard Tom Droney out of Sewickly.  Interesting note, yours truly once stuffed the living daylights out of Droney in the Catholic grade school ranks of Pittsburgh.
-Calvin Newell-Not a whole lot out there to link Penn State to this JUCO point guard out of Charlotte, but Eeersports.com has gone so far as to say Penn State has offered him.  Whether the Lions are a player or not is highly questionable, but at this point, they're already grasping at straws.
Feel free to surf through the rest of the Penn State Hoops list at your leisure.  There are certainly some interesting targets, but Penn State's position with many of them is unknown.
In any event, use this as your base guide for Penn State Emergency Recruiting 2010 and keep your eyes on these players and others mentioned on the Penn State Hoops List.