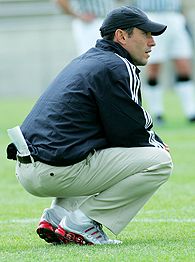 Penn State hired a new lacrosse coach to replace long-time caretaker Glenn Thiel. It's part of an interesting flight of coaches from Ivy League schools. Jeff Tambroni leaves Cornell for State College; other coaches made moves from Harvard to Maryland, Penn to Drexel, and probably most shocking: Princeton to Denver.
Those are, with the exception of Harvard, big-time college lacrosse programs losing coaches to middle-of-the-pack ones. It's Jim Tressel leaving Ohio State for Toledo.
TNIAAM likens the trend to what we saw in football and basketball generations ago, noting that every college football champion was an Ivy from 1869 and 1900, yet none have done it since 1925.
It's probably because we've got the loot and the Ivy's don't:
The schools that afford to overpay quality coaches, build better facilities and attract better athletes simply begin to outpace the ones that can't do all of those things. Namely, regional Ivy League schools.

Obviously, this is overstating the current situation. Princeton and Cornell are still both top programs. The sport is still full of small, regional schools that compete and do well. But what if Tambroni turns Penn State into a power? And Tierney continues to build Denver up? And more high-profile universities hire away good coaches from the little guys. And conferences expand, cultivate and grow. And the sports continues moving West away from its Northeastern roots.

Well...I guess we'll see...
If you were a reader around this time last year you may remember a disagreement (okay, BLOGFIGH!1!) between Tim, now at Mgoblog, and myself about the merits of self-sustained Midwestern lacrosse.
Beneath all the absolute crap he threw out to defend...well whatever it was he was trying to say, I never did figure that out...was my point: A Midwestern school cannot become constantly relevant without shipping in a 747 worth of east coast lacrosse talent. I thought it was a pretty obvious statement then. It kind of still is.
I never did get to post this, but I dumped the rosters of the top four seeded teams when the 2010 NCAA bracket was announced.
Ten of the 181 roster spots on those four teams are from Big Ten states other than Philly. Will that number increase in the next 20 years? Almost certainly, there are only ten and it can't get much smaller, but we're talking marathons worth of ground to make up here.
Being the Big Ten's only fake-Midwesterner pays off. Penn State is probably in a decent position to benefit anyway, at least from a most improved perspective. The sheer number of students from lacrosse states will draw a crowd, and it's within shouting distance of where 94% of the best players grow up.
I'll also take Tambroni leaving behind three Final Four appearances in the last four years at Cornell, plus what would have probably turned into an offer from frickin' Maryland, as a sign that Penn State has potential. I mean look at this record:
| | | | |
| --- | --- | --- | --- |
| Year | W-L | Pct. | Season Notes |
| 2001 | 7-6 | .538 | |
| 2002 | 11-4 | .733 | NCAA Quarterfinals |
| 2003 | 9-4 | .692 | Co-Ivy Champions |
| 2004 | 9-5 | .643 | Co-Ivy Champions, NCAA Quarterfinals |
| 2005 | 11-3 | .786 | Ivy Champions, NCAA Quarterfinals |
| 2006 | 11-3 | .786 | Co-Ivy Champions, NCAA First Round |
| 2007 | 15-1 | .938 | Ivy Champions, NCAA Semifinalist |
| 2008 | 11-4 | .733 | Co-Ivy Champions, NCAA First Round |
| 2009 | 13-4 | .764 | Co-Ivy Champions, NCAA Runner-Up |
| 2010 | 12-6 | .667 | Co-Ivy Champions, NCAA Semifinalist |
| TOTAL | 109-40 | .732 | |
It's an exciting hire for anyone who wants to see Penn State as a consistent tournament team, not to mention the raving reviews he's getting from current and former Cornell players even as he's walking out the door.
And it doesn't hurt to be lucky. This time in the form of coach's wife, Michelle. She's a Penn State grad and apparently one of the better field hockey players the school has ever had.
So while Tambroni likely sees potential at a sports-culture school, made up of half east-coasters and with excellent facilities—well there is opportunity for his wife at well.
Penn State has been the NCAA runner-up in field hockey twice since 2002 and is in good position to take advantage of what one publication called the Florida and Texas of college football: known to many of you as southeast Pennsylvania.
Now why, as is being rumored, Michelle thinks she will get the job is unclear and not something I will speculate on. Charlene Morett is the current coach; she's in her 23rd season, has had the most all-conference players of any Big Ten school since 2002, and will finish her career—whenever it ends—as one of the five winningest coaches in her sport.
Speaking of being a "winningest." Cornell was quick to replace their very successful one with long-time assistant Ben DeLuca. Quick and with style:
ITHACA, N.Y. - Ben DeLuca, a fixture on the Big Red men's lacrosse sideline for the past decade, has been named The Richard M. Moran Head Coach of Men's Lacrosse at Cornell, it was announced Friday....
No, don't get confused, Richard M. Moran already was the head coach, it's just that his name stays on the letterhead for eternity. So the bar has been set:
| | | | | |
| --- | --- | --- | --- | --- |
| Coach | School | Years | Winning % | Championships |
| Richard M. Moran | Cornell | 29 | .680 | 3 |
| Joseph V. Paterno | Penn State | 44+ | .753 | 2ish |
No word yet on whether the job title would come with a set of Coke bottles.