But Temple Is A Really Great Team And We Won So It's All Good.  No.  Stop it.  This recap will not be a foaming, ALL CAPS UNACCEPTABLE diatribe.  The online onslaught of FIRE ______ after every Struggle Bus performance is dumb as hell -- the coaches aren't going anywhere, deal with it -- but can we agree to be real and objective about this?  It was a garbage performance against a decent but undermanned MAC team, and disaster was only averted thanks to a pair of rather short, gift-wrapped touchdown drives.  Your relative satisfaction regarding this game is the ultimate answer to "What kind of Penn State fan are you, and what do you want out of the football program?".  Some people are legitimately content with needing a dramatic, late-game touchdown drive against a team that ran the ball for 2.5 yards per carry and completed 12 of 28 passes with two interceptions.  I envy these people sometimes. 
At Least The Quarterback Thing Is Settled Though, Right?  Right.  I'm over it.  It doesn't matter at this point, and if you need me, I'll be over there in the pool:
No Passing Chart?  Nothing?  In grand Philly fashion, I respond with the infamous Ricky Watters quote, "for who, for what?"  Forced to choose, I'll continue to prefer Bolden for the sake of long-term potential but there is so little separating Bolden and McGloin at this point that it's time for everyone to look elsewhere for answers to this bumbling offense. Here's a jumping off point: have either of these quarterbacks noticeably improved at all?  Since, ever?  They're being done absolutely no favors by a coaching staff -- and yes, head coach -- which continues to punt on the issue and is afraid to put either McGloin or Bolden in a position to lead their teammates on a consistent basis.  Consider me an official convert to the "I don't care, just pick one" camp.  The McGloin vs. Bolden debate is the ultimate red herring.  The true problem was hidden behind the tinted glass at Lincoln Financial Field. 
And What Was THAT?  Find me a better representation of the current state of the Penn State program than offensive braintrust obscured by the tinted, reflective glass of the coaches' box.  For years, nobody has really known who is running the show at Penn State.  The convoluted playcalling system, weird job titles, and the waxing and waning of Joe Paterno's involvement in the program were all neatly captured by the continued ESPN camera shots of the mysterious press box.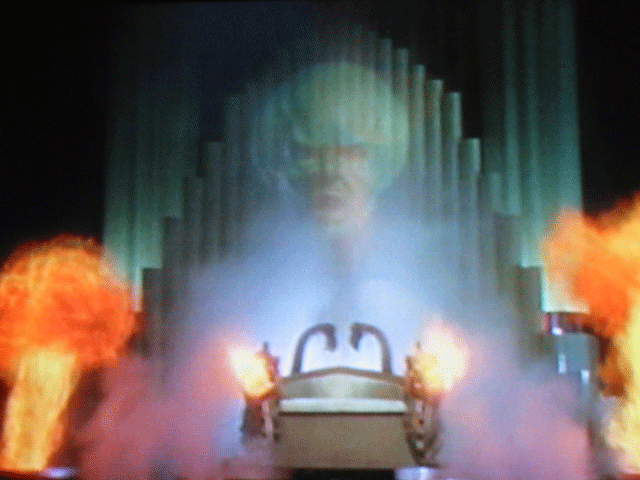 This Horse Is Dead, The Beatings Will Continue.  The offensive line also took a step back this week, a combination of poor communication on blitzes and guys just getting beat in crucial spots.  Averaging 2.6 yards per carry is abysmal against any opponent, especially Temple.  The quarterbacks are what they are, and they are receiving precious little help from the running game or playcalling.  The tight ends have four catches for 26 yards in three games.  This is a bad offense, and there is no other way to characterize it.  As fans, we love to overrate the talent on our favorite teams.  Defensively, Penn State has many players who would be coveted by the best programs in the nation.  Offensively?  Decidedly less.  Which of the offensive linemen do you think will get a remote whiff of Sunday football, nevermind a second or third-team all-conference selection?  Exactly.  This is reality, and it will not produce points against good teams.  It was barely enough to beat Temple.
The Blind Samarai.  It's not that Penn State completely lacks physical talent on offense, mind you.  It's that practically every decent defense is the Blind Samarai (Boondocks version, so questionably SFW), able to predict nearly all of Penn State's playcalls based on feel and tendencies.  This has been a familiar occurence throughout Penn State's battles against the better teams of the Big Ten.  Iowa's defenders once famously spilled the beans after beating Penn State a few years back, admitting that they knew exactly which plays were coming according to formation and situation.  Temple was all over Penn State's playcalling as well, sending linebackers and safeties into correct running lanes with alarming frequency as the ball was snapped.  The offense is very obviously struggling, and what is being done to loosen up defenses?  No pre-snap motion, no variable formations, no changing plays at the line of scrimmage.  Nope, the solution is line up and run the play.  It's caveman football, but done without the requisite skill or strength needed to make it work.
Attention To Detail.  Blocked punt, blocked field goal, two missed field goals.  Throw in some awful penalties, and it's a miracle that Penn State isn't sitting at 1-2 this morning.  The Big Ten is awful, historically awful, and a smart, mistake-free team with a solid kicking game and great defense should easily win five conference games.  Based on the schedule and the results around the conference to this point, a 5-3 Big Ten record seems to be more than a reasonable pass/fail line.  Agreed? 
[An addition here, as I was helpfully reminded by The Nit that Penn State (with three timeouts!) allowed nearly 30 seconds to tickoff the clock as Temple was settling for a field goal attempt at the end of the first half.  Chester Stewart was stopped on a 3rd and 5 at the PSU 23, and Penn State did...nothing.  Any 11 year old kid with a PlayStation controller calls timeout there.  Instead of getting the ball back with roughly1:05 left and two timeouts, Penn State began its final drive of the first half with 32 seconds after Devon Smith's 17 yard kickoff return.  When it comes to in-game decisions under pressure, we continue to be ruled by amateurs.]
ADDAZINOOOOOOOOOOO!  Not sure what he was thinking with playing Chester Stewart at quarterback, as Chester Stewart is terrible at the quarterbacking.  When Mike Gerardi was replaced by Stewart in the second quarter, he was at least producing some modestly successful drives, not to mention Temple's only touchdown drive of the game.  Stewart was -- surprise! -- ineffective, to say the least.  Apparently, nobody provided Addazio with last year's PSU-Temple video.  Gerardi returned late, but couldn't regain any rhythm he had established earlier in the game.  His fourth quarter stint was ugly: 5-for-13 with two ghastly interceptions.
Love For The Defense.  Yes, lots of it.  Devon Still continues to earn a larger NFL signing bonus by the week, and the remainder of the Penn State defense was fantastic from start to finish on Saturday.  Even Temple's touchdown drive was aided by broken plays and penalties (and Bernard Pierce, who would give Silas Redd a serious run for playing time if he was at Penn State).  Sean Stanley provided a nice charge from his defensive end spot, and the playing time of either Jack Crawford or Eric Lattimore will be drastically decreasing sooner than later.  Also, Mauti.  Good Lord, man.  What a player.
The 2004th Parallel.  Some are already floating the 2004 comparison, when Penn State paired a historically tremendous defense with a hopelessly flailing offense.  That year, Zack Mills' completion percentage was 57.8%.  He threw nine touchdowns and 12 interceptions.  At the quarter-pole in 2011, Penn State quarterbacks have a 47.9% completion percentage, with no touchdowns (!) and two interceptions.  In 2004, Austin Scott and Tony Hunt had a combined 4.86 yards per carry average.  So far, Silas Redd and Brandon Beachum have a combined 4.73 average.  Robbie Gould was 7-for-13 on field goals in 2004.  Penn State currently sits at 1-for-6.
In Praise Of.  A nice bounceback for the receivers.  Devon Smith had quite a nice block on Silad Redd's touchdown run.  Justin Brown and Derek Moye were both dependable all afternoon.  Moye looked great on his punt return.  And for all of the piling on with respect to the coaching staff, they showed guts by going on the pair of fourth-down plays late in the game.  Maybe they had no choice due to the placekicking fiasco, but they saw their opportunity and were prepared to go down swinging at that point in the proceedings.  Bravo.  Bolden came up with a tremendous throw when he needed it most.
Next.  Eastern Michigan and Indiana.  Whatever.  Then it's Iowa at Beaver Stadium, the ultimate psychological test for a team, program, and fanbase with the shakiest of confidence.