#1 Penn State 34, Lock Haven 6
| Wt | Winner | dec. | Loser | Bout Score | Team Score |
| --- | --- | --- | --- | --- | --- |
| 125: | #3 Nico Megaludis PSU | tech fall | Ronnie Perry LHU, | 21-6 (TF; 7:00) | 5-0 |
| 133: | Jordan Conaway PSU | dec. | Matt Bryer LHU, | 10-5 | 8-0 |
| 141: | #12 Zain Retherford PSU | dec. | Dan Neff LHU, | 6-1 | 11-0 |
| 149: | Mac Maldarelli LHU | dec. | Zack Beitz PSU, | 8-7 | 11-3 |
| 157: | James Vollrath PSU | maj. dec. | Billy Randt LHU, | 12-4 | 15-3 |
| 165: | #1 David Taylor PSU | pinned | Jake Kemerer LHU, | WBF (6:09) | 21-3 |
| 174: | #3 Matt Brown PSU | tech fall | Adam Mackie LHU, | 18-3 (TF; 6:02) | 26-3 |
| 184: | #19 Fred Garcia LHU | dec. | Wes Phipps PSU, | 3-1 | 26-6 |
| 197: | #4 Morgan McIntosh PSU | maj. dec. | Phil Sprenkle LHU, | 15-3 | 30-6 |
| 285: | #10 Jimmy Lawson PSU | maj. dec. | Brad Emerick LHU, | 14-4 | 34-6 |
A full write-up can be found at GoPSUSports.
Random observations
-Lock Haven is coached by erstwhile Penn State wrestler Scott Moore, who was a very aggressive wrestler in his days wearing the Blue & White. That aggressiveness is rubbing off on his team; Lock Haven came out fighting. Far too often teams that come to Rec Hall massive underdogs like the Haven wrestle not to lose instead of wrestling to win. It makes for boring, stall-filled snooze-fests--but not Sunday. Almost every Bald Eagle wrestler worked their offense, which made the match that much more enjoyable. Granted, it made for some lop-sided matches, and a lot of bonus points for Penn State, but I respect a wrestler who fights to the end and gives up a major more than someone who stalls the entire match and keeps it to a regular decision. I hope schools keep hiring more coaches like Scotty Moore.
Insert grainy image of Q
-To raise the Big Ten and National Championship banners Penn State brought in Quentin Wright and Dr. Dave Joyner. Now you can all hash out the political ramifications of Joyner in the comments section, I don't really have an opinion, but Q was a fantastic choice. It's great seeing Wright around Rec Hall.
-This match was not on TV anywhere, so the constant breaks between bouts was confusing and frustrating. Along those same lines, it took Lock Haven a ridiculous amount of time to return after the break. David Taylor was waiting on the mat for what seemed like 10 minutes or so. The entire Penn State team and both officials were standing around twiddling their thumbs.
Bonus Points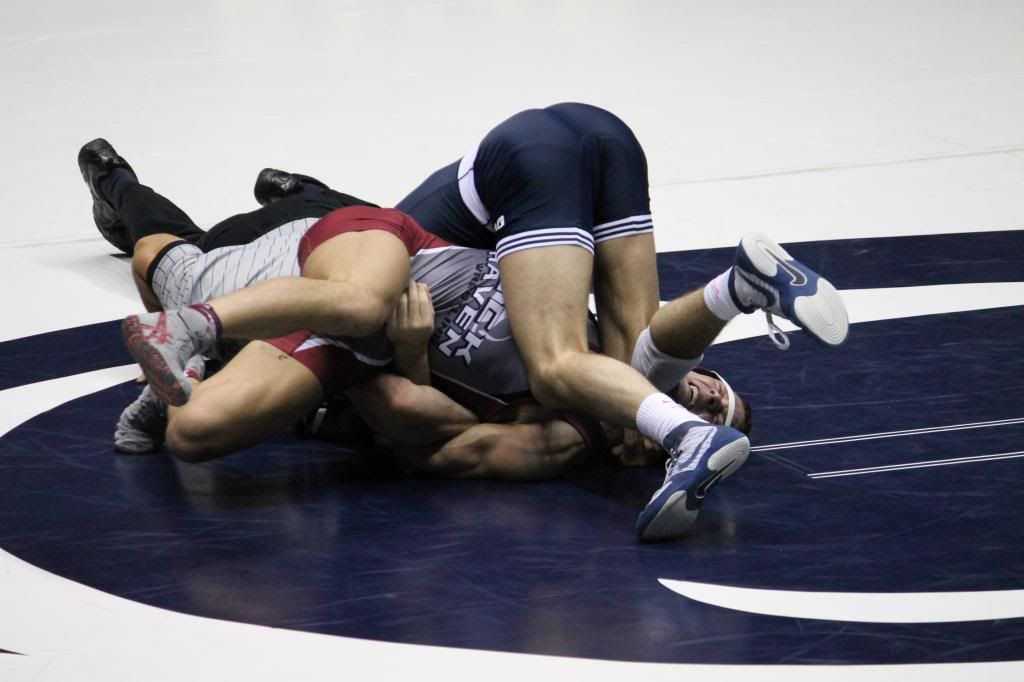 You want to wrestle son? How about a knee in the throat.
-David Taylor pinned Jake Kemerer, who started his career at Penn State as a redshirt freshman before transferring. Kemerer is fantastic at slowing wrestlers down to his pace but not Taylor; the Magic Man forces his will on opponents. I actually think Kemerer was pinned several times, but the ref was slow to the call.
Hulk Hands SMASH!
-Nico Megaludis and Matt Brown both had dominating tech falls. Nico used his quickness to pile on the takedowns while Hulk Hands did what he does best: maul his opponent into submission. After his 5th takedown and a 10-4 score, you could almost see Nico think, oh right, I have to get backpoints and he proceeded to do just that.
That's Morgan McIntosh hidden behind the ref
-Morgan McIntosh and Jimmy Lawson each had major decisions, with Morgan just missing out on the Tech fall. Jimmy looks more confident this year but he needs to be careful with his ride. He got awful close to getting reversed but managed to maintain control. Against the better heavys he can't ride as high as he did against Emerick; he'll get himself into trouble.
Decisions, Decisions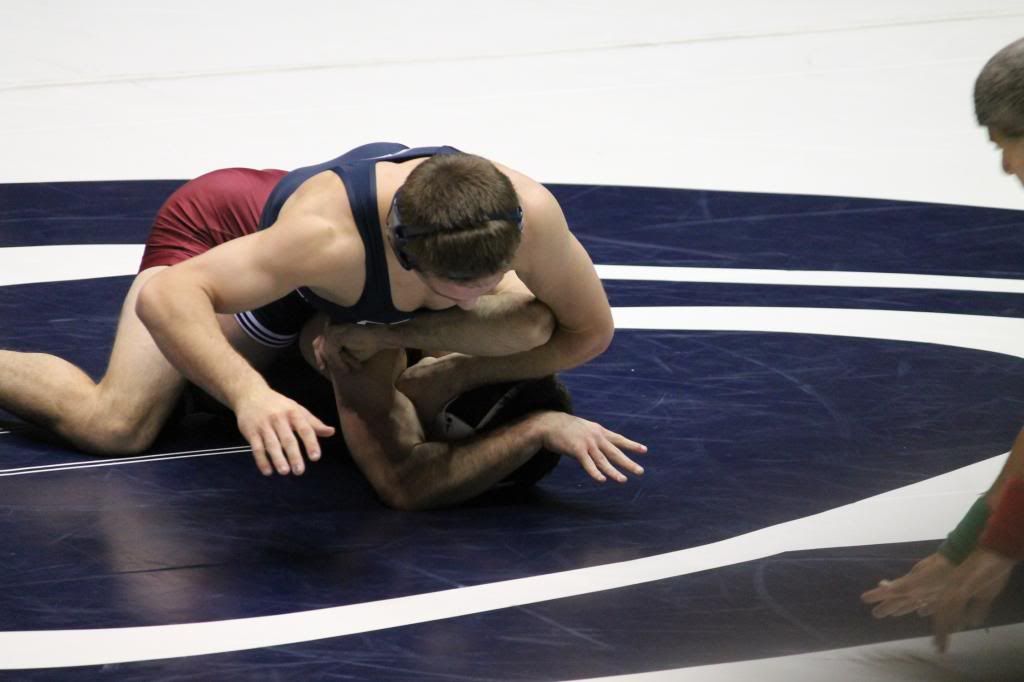 A man's arm is not meant to do that!
-Zain Retherford beat a very solid wrestler in Dan Neff, who is on the cusp of the top-20. Zain definitely is very strong on his feet and a very good rider. Retherford got the takedown in the second and used a strong ride to build up over a minute in riding time and a 3-0 lead at the end of the second. He was so dominant on top, Neff chose neutral to start the 3rd. Jordan Conaway got the start over Jimmy Gulibon and didn't disappoint. Halfway through the 3rd period Conaway was only up 5-4 but instead of running the clock out he kept up his offense and got two more takedowns before the period came to a close. That's the kind of offense Cael preaches.
So Close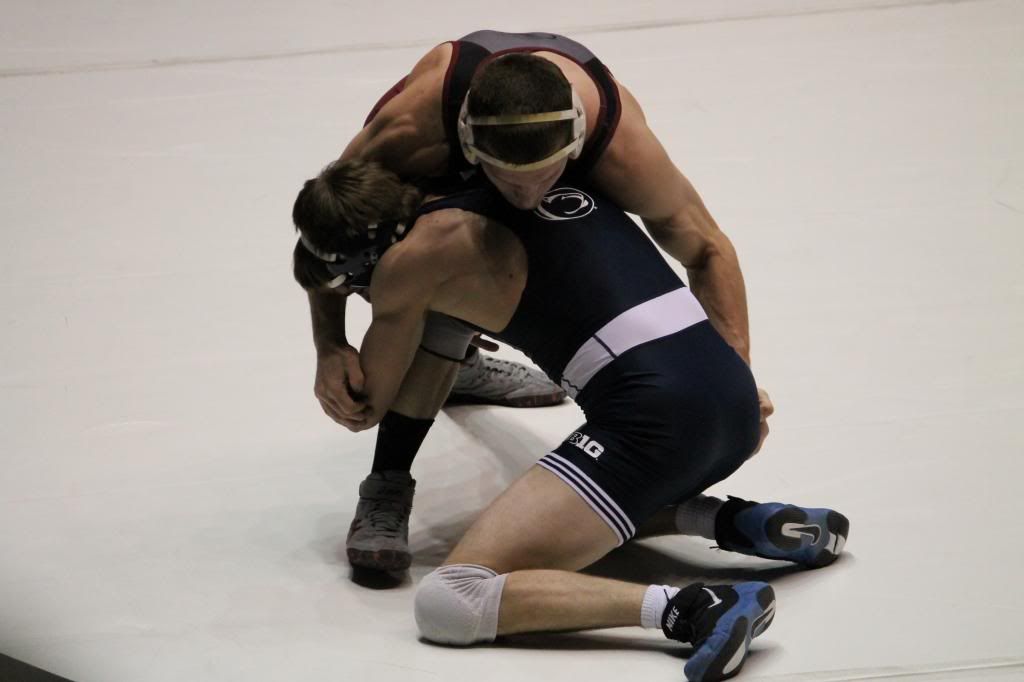 Beitz had a hard time finishing shots like this
-Even the two loses by Beitz and Phipps were both just takedowns away. Beitz moved up from 141 so he was giving up a little weight and you could see it when he got in deep he couldn't finish. Some of his shots would have been takedowns at his natural weight. For Phipps it was his first match as a redshirt freshman and he was returning from an injury against a ranked opponent. He put up a valiant effort and was right there in the end.
Up Next: Friday, Dec. 6, at Boston University, 7 p.m
Follow @BSDtweet on Twitter
And join us on Facebook
All BSD community members should review our current Posting & Commenting Policies before creating any posts or commenting.