#2 Penn State 34, Boston 6
| Wt | Winner | dec. | Loser | Bout Score | Team Score |
| --- | --- | --- | --- | --- | --- |
| 125: | #3 Nico Megaludis PSU | maj. dec. | Bubba McGinley BU, | 15-3 | 4-0 |
| 133: | Dane Harlowe BU | dec. | #11 Jimmy Gulibon PSU, | 1-0 | 4-3 |
| 141: | #11 Zain Retherford PSU | tech fall | Peter Ishiguro BU, | 17-2 (TF; 4:45) | 9-3 |
| 149: | Zack Beitz PSU | dec. | Nick Tourville BU, | 9-3 | 12-3 |
| 157: | #13 Nestor Taffur BU | dec. | James Vollrath PSU, | 5-4 | 12-6 |
| 165: | #1 David Taylor PSU | tech fall | Mitchell Wightman BU, | 21-5 (TF; 6:57) | 17-6 |
| 174: | #3 Matt Brown PSU | tech fall | Eric Des Lauriers BU, | 22-7 (TF/NB; 6:03) | 21-6 |
| 184: | Wes Phipps PSU maj. | maj. dec. | Aaron Conrad BU, | 9-1 | 25-6 |
| 197: | #4 Morgan McIntosh PSU | win by forfeit | | | 31-6 |
| 285: | #10 Jimmy Lawson PSU | dec. | Kevin Innis BU, | 10-3 | 34-6 |
#2 Penn State 28, #23 Pittsburgh 9
| Wt | Winner | dec. | Loser | Bout Score | Team Score |
| --- | --- | --- | --- | --- | --- |
| 125: | #3 Nico Megaludis PSU | dec. | #9 Anthony Zanetta PITT, | 4-1 | 3-0 |
| 133: | #17 Shelton Mack PITT | dec. | Jordan Conaway PSU, | 5-2 | 3-3 |
| 141: | #11 Zain Retherford PSU | dec. | Edgar Bright PITT, | 3-2 | 6-3 |
| 149: | Mike Racciato PITT | pinned | James English PSU, | WBF (6:52) | 6-9 |
| 157: | James Vollrath PSU | dec. | Cole Sheptock PITT, | 7-2 | 9-9 |
| 165: | #1 David Taylor PSU | pinned | Geno Morelli PITT, | WBF (3:09) | 15-9 |
| 174: | #3 Matt Brown PSU | dec. | #9 Tyler Wilps PITT, | 9-3 | 18-9 |
| 184: | Wes Phipps PSU maj. | dec. | Aaron Rothwell PITT, | 13-3 | 22-9 |
| 197: | #4 Morgan McIntosh PSU | dec. | Nick Bonaccorsi PITT, | 4-3 (tb) | 25-9 |
| 285: | #10 Jimmy Lawson PSU | dec. | P.J. Tasser PITT, | 3-1 | 28-9 |
Random observations
For whatever reason, Penn State seemed flat for the Pitt dual. I don't know if it was fatigue from the long bus ride from Boston, but you would think with the atmosphere of a sold out Bryce Jordan Center, the team would have been a little more excited. Perhaps they were a little too hyped up and psyched themselves out, but it didn't seem like the normal energy was there.
Penn State was close on a lot of shots they didn't finish, Pitt used the edge of the mat to their advantage in countering some good Lion shots. Penn State will have to finish those shots against Ohio State next week.
133 is far from decided as both Conaway and Gulibon lost. Conaway's loss to a ranked Mack is a tad more forgivable than Gulibon's loss to Harlowe. I don't think Cael will pick a permanent starter here until the Big Tens roll around.
The Pitt dual ref was about the quickest referee I've witnessed to call a pin. I'm not saying they weren't pins, just that the calls came really fast. Again, that's not necessarily a bad thing just an observation.
Bonus Points
Of course one wrestler that loves the kind of atmosphere we saw Sunday is David Taylor and he didn't disappoint. Taylor and Wes Phipps were the only wrestlers to get bonus points in both matches this weekend. Taylor pinned Pitt's Morelli and got a tech fall against Boston's Wightman in just under 7 minutes. Taylor is 9 pins short of the career record at Penn State.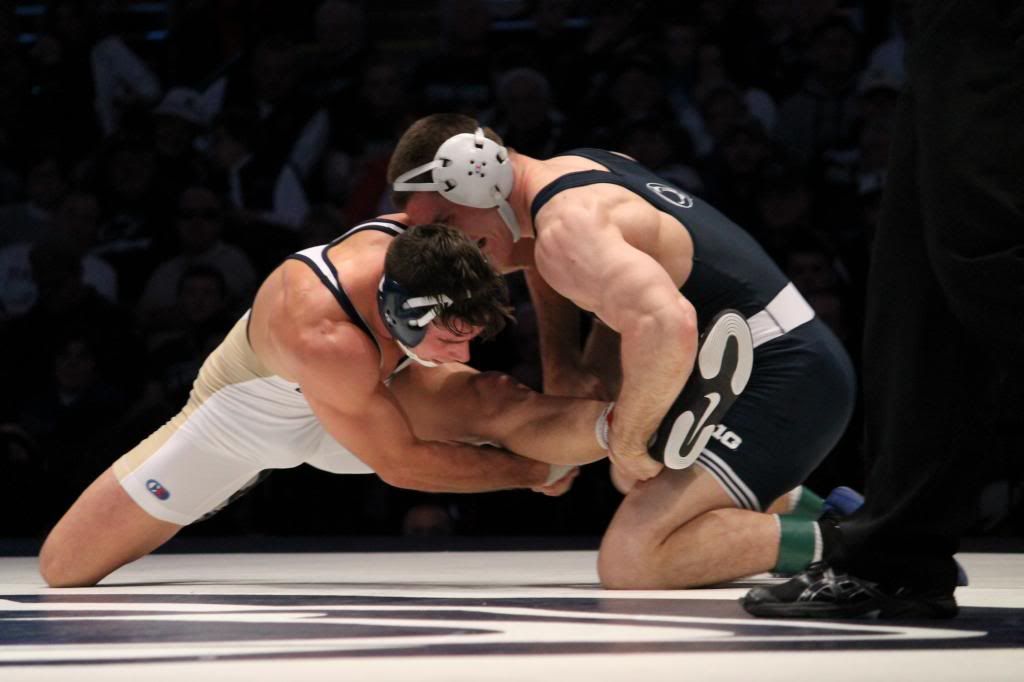 Matt Brown Photo: BSD/Galen
Hulk Hands had a good weekend notching a tech fall and nearly getting bonus points on Pitt's Tyler Wilps. That's not bad work considering Wilps is the 7th-ranked wrestler in the country. Brown had total control of both matches.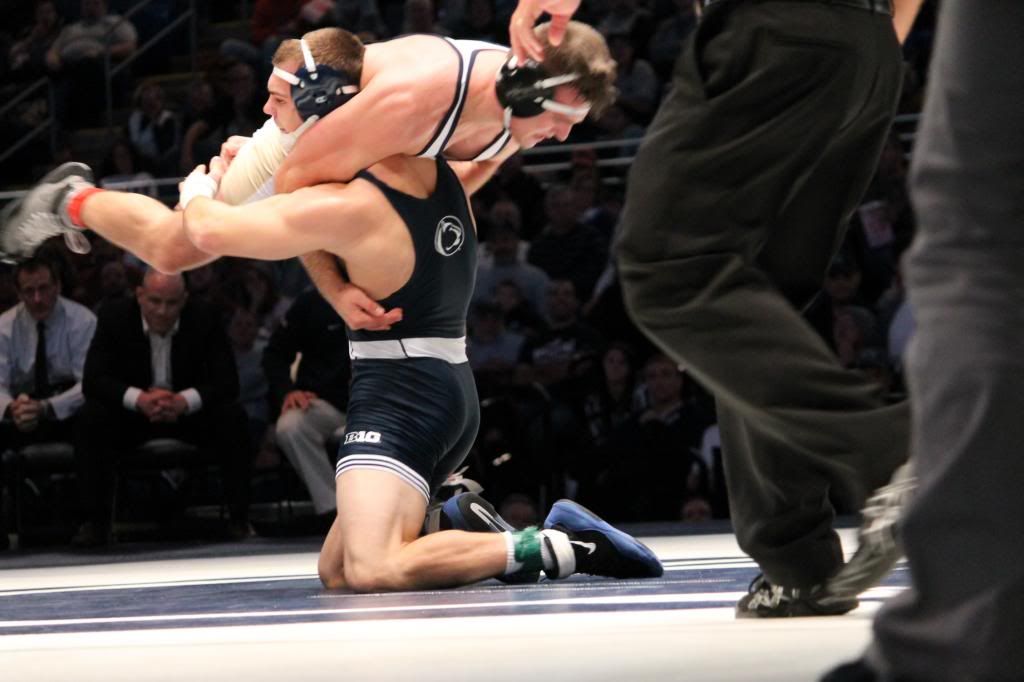 Wes Phipps Photo: BSD/Galen
Ed Ruth returns to the lineup next Sunday but in his absence Wes Phipps has done an admirable job. Phipps looked strong and aggressive in both bouts but particularly against Pitt on Sunday afternoon. Phipps shot early and often getting 6 takedowns, amassing almost 4 1/2 minutes of riding time, and forced 2 stall calls. That's the kind of effort you would expect from someone that's sick of getting dominated by Ed Ruth in the wrestling room.
Nico Megaludis Photo: BSD/Galen
Nico Megaludis is wrestling well right now collecting two more wins including a major. Don't let that 4-1 score fool you Zanetta is a defensive wrestler and never really had a shot (literally and figuratively) in that match.
Decisions, Decisions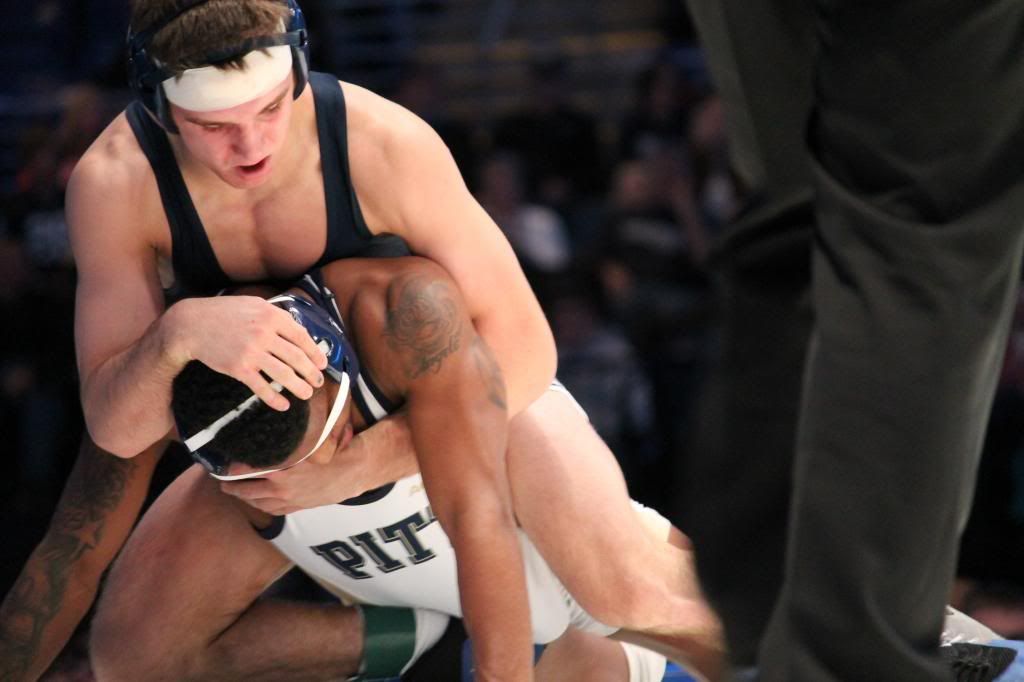 Zain Retherford
Photo: BSD/Galen
Zain Retherford's match with Pitt's Edgar Bright didn't go as planned but Zain did what good wrestlers do: find a way to win. Retherford gave up a quick takedown and was never able to break through Bright's defense but rode Bright the entire 3rd period to win on riding time advantage. Zain's good on his feet but he's a strong rider and he used that to his advantage Sunday.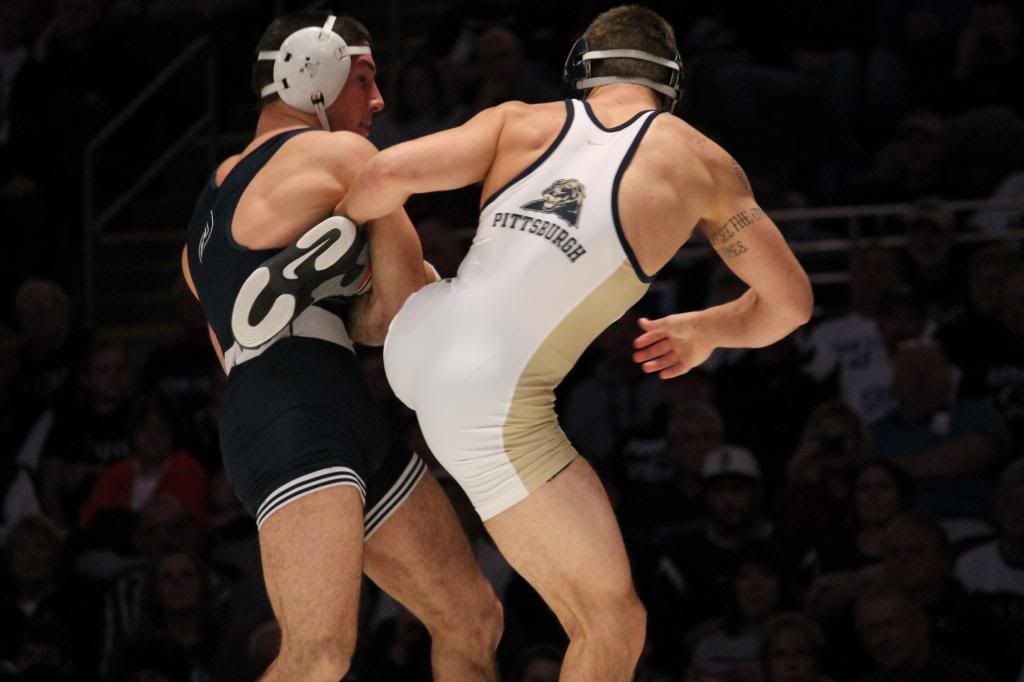 James Vollrath
Photo: BSD/Galen
James Vollrath split the weekend beating Pitt's Cole Sheptock and losing a heart-breaker to 13th-ranked Nestor Taffur of Boston. After James English got caught and pinned at the end of his match it was important for Vollrath to get momentum back for Penn State and he did. Vollrath was the aggressor from the opening whistle until the clock read 0:00 getting 3 takedowns and nearly converted on a few other shots. Until Alton gets back Penn State is solid at 157.
So Close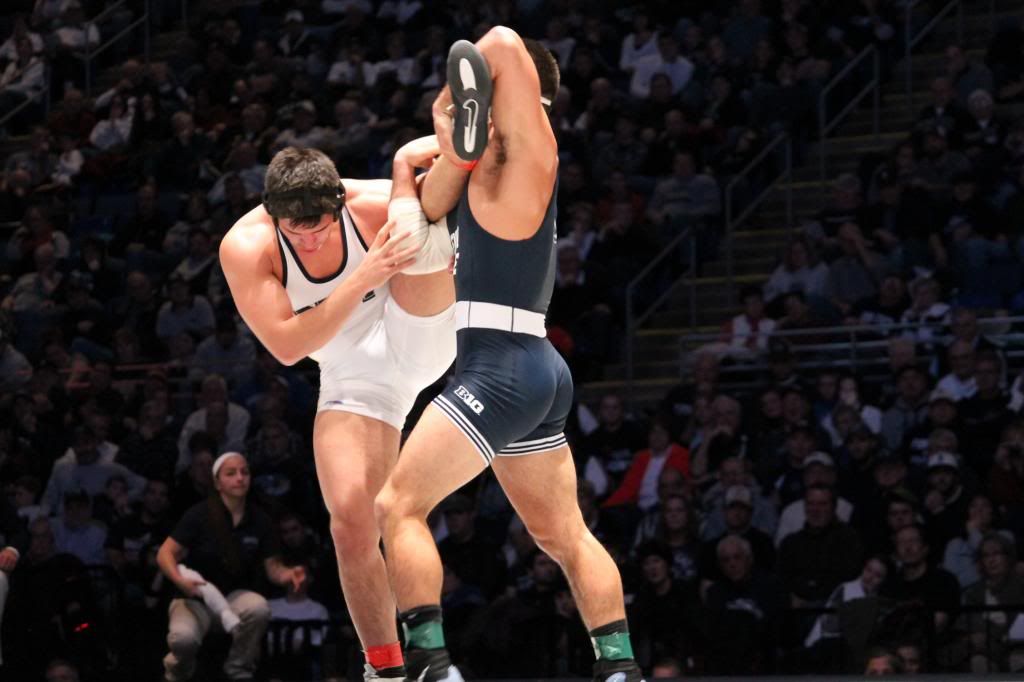 Morgan McIntosh
Photo: BSD/Galen
It appears Morgan McIntosh's offense is up this season but you wouldn't know it by the overtime bout with Pitt's Bonaccorsi. Morgan gave up the initial takedown early but with the benefit of a locked-hands call was able to take the match to overtime. McIntosh had only 1 other serious threat to score (pictured) but was unable to convert. In overtime however, McIntosh turned it on getting 3 shots but was still unable to covert. Morgan rode Bonaccorsi out for the 1st tiebreaker session and quickly escaped in the 2nd for the 1-point win.
Overall
So it's hard to complain with 2 victories especially when one is Pitt but Penn State has a long way to go. The record-breaking crowd was great but don't hang your hat on it, that will be topped when Penn State travels to Iowa to battle the Hawkeyes in the Twitter-fight later this month. The Bryce Jordan Center is great and it's loud when it's filled, but I'll take good old Rec Hall when it comes to wrestling.
Up Next: Sunday, Dec. 15, Ohio State, 12 p.m