After the massive success the B1G had in the first two weeks of the season, the conference finally stumbled as a whole, even if only for a week. There were 4 head to head match-ups between a Big Ten team and a Pac 12 team this weekend, with Ohio State being the only one of the bunch who was able to take down their opponent. Overall, the conference went 7-5 on the week (Which is a record we might want to get used to thinking about, by the way). As an FYI before we dive into the recaps, I'm home sick today, so I had lots of time to make this post as gif-tastic as possible. Hope you enjoy it.
Indiana 42 Bowling Green 10
Bowling Green was never able to find their offense, allowing the Hoosiers to do whatever they wanted on offense, which is never a good sign. The closest this game was, was right after Bowling Green's field goal to make it 10-7 in the 2nd quarter. Indiana responded quickly, though, with a 43 yard touchdown run by Tevin Coleman a few minutes later. The Hoosiers never looked back, and piled on points consistently throughout the rest of the game. There was one thing that Indiana didn't win, however. And that would be the play of the game.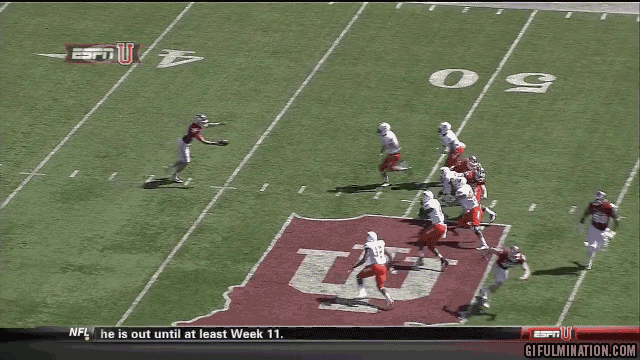 That's swag on infinity right there. Dude never even broke stride.
Nate Sudfield, in his first career start, threw for 335 yards and 2 touchdowns, while adding in a score on the ground. Running backs Stephen Houston and Tevin Coleman each broke the century mark in rushing yards, while Cody Latimer was able to pick up 137 through the air. All in all, Indiana put up 601 yards of offense in this one, while giving up 409, which still is a number they need to improve on. Wait...409 you say?
Michigan 28 Akron 24
Well that was close. The 2013 Wolverines almost took a page out of the 2007 Wolverines' notebook. (HINT: THAT'S WHEN THIS HAPPENED)
Oh the memories. Anyways. Michigan did not play well in this game, especially Devin Gardner, who followed up a week of talk about his inserting his name into the Heisman race with a 4 turnover performance. Despite all that, the Wolverines still found themselves with, what should have been, a somewhat comfortable 11 point lead in the 4th quarter. Then, one of Gardner's interceptions got returned for a touchdown. Then, Akron scored again thanks to a huge pass down the sidelines from Kyle Pohl to L.T. Smith. The Zips defense couldn't do their job though, allowing for Gardner to gash them with a 35 yard run, and and a 20 yard pass to get Michigan back into the red zone, where Fitzgerald Toussaint was able to punch it in. Akron drove down the field again, and were in position to win, with the ball on the 4 yard line and 5 seconds to go. However, Michigan's defense stood up, and brought the blitz to force an incomplete pass on the last play of the game, and that was all she wrote.
Gardner finished with 248 yards through the air, and 103 on the ground, while accounting for 3 touchdowns and 4 turnovers. Kyle Pohl threw for 311 with 2 touchdowns and 2 picks for the Zips, while LT Smith caught 5 balls for 125 yards. Michigan barely edged Akron in total yards, 425 to 418, with Akron winning the turnover battle.
Minnesota 29 Western Illinois 12
In what is becoming far too common of an occurrence, Jerry Kill suffered a seizure at halftime in this one. The reports are that he's fine, and is planning on continuing to coach. That might not be the best idea, but you have to admire his unwillingness to quit on his team.
The first half ended with the robust score of 7-6, and it didn't look like there was going to be any higher power of offense any time soon. Western Illinois opened up the 2nd half with an 11 yard TD pass from Trenton Norvell to Lance Lenoir, to take the 12-7 lead. Minnesota took over after that, though scoring 3 unanswered touchdowns to quell the threat from the feisty Leathernecks of Western Beckmanville.
Philip Nelson was injured early on in this one, and was replaced by Mitch Leidner. Leidner threw for 105 yards, going 7/8, and 64 more rushing yards to cap his successful day. David Cobb added 86 rushing yards and 2 touchdowns for the Gophers. Overall, Minnesota finished with 337 yards of total offense, to Western Illinois' 230.
Michigan State 55 Youngstown State 17
When your offense is in a funk, there's really only one logical thing to do: play the team that Rob Bolden shredded in his first ever collegiate start (If you don't remember, he went 20/29, with for 239 yards and 2 touchdowns). Connor Cook received the start for the Spartans in this one, and boy did he run with it. This one was laughable by the end of the 1st quarter, after Sparty had already jumped out to a 21-3 lead. MSU continued to pour it on, adding 2 touchdowns in the 2nd and 2 more in the 3rd, before capping off the day with 6 points worth of field goals in the final quarter.
On the day, Connor Cook finished with 202 yards on 15/22 passing, for a casual 4 touchdowns. Nick Hill and Jeremy Langford combined for 151 of the team's 277 rushing yards, with 3 touchdowns between the two as well. The strong MSU defense stymied the Penguin offense, allowing QB Kurt Hess to throw for only 121 yards, and only allowing 51 rushing yards. Youngstown State went home only gaining 172 total yards in this one, with Sparty picking up an insane 547 on their part, which effectively doubled their entire offensive output for the season, to this point.
UCLA 41 Nebraska 21
And now we reach the first of the Pac 12's triumph over us for the day. UCLA won this game, just 6 days after former receiver Nick Pasquale, who was tragically killed after being struck by a vehicle. When asked about it, Coach Jim Mora had this to say...
You can't believe how tough it was on them. You never want to say you won one for somebody. We didn't win one for Nick. What we tried to do today is go out and play with the type of energy, enthusiasm and passion for the game that would reflect what he meant to us."
This game seemed like it was going to be all Nebraska, after they took a 21-3 lead with 7 to go in the 1st half. The Bruins found their extra gear, however, scoring within a minute of the break to make the game seem winnable again. All they did after that was go on to score 31 unanswered points in the second half, completely obliterating the Huskers defense in the process. There will be plentyyyyy to look at in the film room this week, as the Cornhuskers simply can't rely on Taylor Martinez to win shootouts every weekend.
Brett Hundley had an efficient day for the Bruins, throwing for 294 yards with 3 touchdowns and an interception, while also rushing for 61. Jordan James rushed for 105 yards and touchdown, and Shaquelle Evans had 97 receiving yards and a touchdown that put UCLA ahead for good on a perfectly thrown deep ball. For the Huskers, Martinez finished with 203 yards and 3 touchdowns, but averaged only 5.8 yards per completion. He also finished with -13 rushing yards, which I'm sure was due to sacks, but that's still not a very Martinez-y line (However, I didn't get a chance to watch this game, so I really don't know). Ameer Abdullah ran for 98 yards, and Kenny Bell caught 6 passes for 68 yards and a touchdown.
Iowa 27 Iowa State 21
Iowa improved to 2-1, while dropping the Cyclones of Iowa State down to 0-2. The Hawkeyes took a 13-0 lead into the locker room at half, thanks to a Jake Rudock touchdown pass and a pair of Mike Meyer field goals. The 3rd quarter saw Iowa State jump back into the game, with a 67 yard touchdown pass from Sam Richardson to Quenton Bundrage. Iowa answered though, with Rudock finding Jacob Hillyear to build the lead, before adding a 1 yard touchdown run of his own to put the game seemingly out of reach. Richardson hit Bundrage for another touchdown on the next possession, the Cyclones recovered the onside kick, and then OH MY GOD THIS HAPPENED!
This is BJ Lowerey coming down with one of the coolest interceptions you will ever see in your life. Go watch it again. And then again. And then 4 more times. And then 20 more times. It's fine, I can wait.
Despite this godly act that probably impregnated at least 4 Iowa fans on the spot, Iowa is still Iowa, so they gave the ball back to the Cyclones. Richardson connected with Bundrage one last time, before Iowa was finally able to quell the comeback, and enjoy the victory.
Jake Rudock finished with 160 yards passing and 2 touchdowns for Iowa, while Mark Weisman rushed his way to 145 on the ground, averaging 4.1 yards per carry. For Iowa State, Sam Richardson threw for 260 yards with 3 touchdowns and 2 interceptions. One of which was BJ Lowerey's. Scroll up and watch it again. Quenton Bundrage caught 7 passes for 146 yards and 3 touchdowns in the losing effort. Iowa out-gained Iowa State in total yards, 378-319.
Washington 34 Illinois 24
Welcome to round 2 of PAC 12 V. B1G. This time around, the matchup pitted the #19 ranked Washington Huskies against the surprisingly decent looking Illini. The Huskies started off the game the way that most teams playing against Illinois this year will- by scoring first (Even if it took until the 2nd quarter), as Bishop Sankey collected a 31 yard pass from Keith Price for the TD. Both teams then traded field goals before half. Washington exploded in the 3rd quarter, putting up 3 touchdowns, and taking a 31-10 lead with 3 minutes to go in the 3rd. Ryan Lankford then took a pass from Nathan Scheelhaase for a 72 yard touchdown, and Aaron Bailey ran in a 10 yard TD to start the 4th, and cut the lead to 7. Washington was able to tack on a field goal, though, and hold on for the W.
Scheelhaase finally looked human in this one, after some outstanding performances to start the season, he was held to 177 totals yards, with a 1/1, TD/INT ratio. The Illini picked up only 136 yards rushing on 36 carries, and Ryan Lankford caught 3 balls for 100 yards on the dot. On the Washington side of the field, Keith Price threw for 342 yards and 2 touchdowns, and Bishop Sankey had a huge day on the ground, picking up 208 yards rushing, and 63 yards receiving, to go with 2 touchdowns. Washington out-gained the Fighting Beckmans 615 to 327.
Notre Dame 31 Purdue 24
The Boilermakers definitely didn't make this one easy for the Irish. Akeem Hunt collected the 15 yard pass from Rob Henry to start off the scoring, before the teams traded field goals to bring the game to half at 10-3. The Irish came out in the 2nd half and scored on a 1 yard Cam McDaniel run, but Purdue answered right back to put the lead back to 7. Aaaaaand then Notre Dame remembered that they're supposed to be a good team. So they quickly scored 21 unanswered points, before Purdue added one last touchdown to close out the scoring.
Rob Henry played a great game for Purdue in this one, throwing 256 yards and 3 touchdowns. Akeem Hunt has success in the passing game, catching 9 balls for 72 yards and a touchdown, but couldn't get anything going on the ground. He rushed for only 22 yards on 12 carries, as part of the Boilermakers' 38 rushing yards for the game. For Notre Dame, Tommy Rees played very well, throwing for 309 yards and 2 touchdowns. DaVaris Daniels had a ridiculously productive game, catching 8 balls for 167 yards and 2 touchdowns. The Irish out-gained Purdue 400 to 294.
Ohio State 52 Cal 34
If you didn't watch this game, you probably assumed that Braxton Miller played today. Urban sure has himself in a good spot at QB, because Kenny Guiton might legitimately be the best backup QB in the country right now. The Buckeyes stormed out to a 24-14 lead after only the first quarter, with Devin Smith scoring on long touchdowns twice in less than 2 minutes. Cal cut the lead down to 31-20 by halftime, but the Buckeyes didn't ease up, scoring 3 more touchdowns in the 3rd quarter. Cal added one more TD in garbage time, leaving them as the sole PAC 12 team to leave a game against the Big Ten, as losers.
Kenny Guiton played fantastic, throwing for 276 yards and 4 touchdowns, and rushing for 92 more. Jordan Hall rushed for 168 yards on 30 carries, finding his way to the end zone. Devin Smith started the game with touchdowns of 90 yards, and 47 yards, on his way to a 149 yard, 2 touchdown performance. Jared Goff threw 51 passes on the day, completing 31 of them for 371 yards and 3 touchdowns. Chris Harper picked up 115 receiving yards to go with a touchdown, headlining the Golden Bears' day through the air. OSU won the yardage battle, 608 to 503.
Northwestern 38 Western Michigan 17
The Wildcats blew this one open with a 24 point 2nd quarter, and never looked back. My man crush, Kain Colter, began the scoring with a 4 yard TD run, before Western Michigan briefly took the lead with a TD of their own. A Christian Jones TD catch from Colter's arm, along with a Mike Trumpy TD run and a field goal from Jeff Budzein gave the Wildcats all they needed to control the game. Treyvon Green ran in a pair of scores in the 2nd half, around one last Western Michigan TD.
Western Michigan's statistical day was highlighted by the man who has one of the best names in sports, Tyler Van Tubbergen. TVT threw for 202 yards and 2 touchdowns, while rushing for 33 more. Corey Davis caught 5 passes for 112 yards and touchdown in the losing effort. Trevor Siemian was disappointing, throwing for only 99 yards and no touchdowns, but they didn't need much from him on this day. Kain Colter threw for one touchdown and one interception on 40 yards through the air, while rushing for 106 yards and a touchdown. Treyvon Green rushed his way to 158 yards and 2 touchdowns to lead the Wildcats to their 332 yards on the ground.
Arizona State 32 Wisconsin 30
And in the final round of PAC 12 V. B1G, the Sun Devils of Arizona State took down the Badgers of Wisconsin, albeit it on an extremely confusing ending to the game. Wisky rushed out to a 14-3 lead in the 2nd quarter, but Arizona State answered quickly, bringing the score to 14-13 at the half. Melvin Gordon started the 3rd quarter with a bang, as Melvin Gordon scored on an 80 yard touchdown run to retake the lead, before the Sun Devils, yet again, answered with a touchdown of their own. In the 4th, with a 24-19 deficit, the Sun Devils scored twice to take a 32-24 lead. After Wisconsin scored again to make it 32-30, Wisconsin found themselves in position for a game winning field goal, when one of the strangest finishes you'll probably see this year occurred. I wasn't watching it live, so I will direct you here, for a pretty good explanation of what happened.
Joel Stave completed half of his passes for 187 yards and a touchdown, but the headliner for the Badgers in this loss was Melvin Gordon. He rushed for 193 yards on 15 carries, for a 12.9 average per carry, to go with 2 touchdowns. On the winning side of the ball, Taylor Kelly threw for a whopping 352 yards on 29 of 51 passing. Jaelen Strong headlined the receiving game, with 6 catches for 104 yards. Marion Grice supplied almost all of the scoring for the Sun Devils, rushing for 4 touchdowns on the night. Arizona State out-gained Wisconsin in yardage on the night, 468 to 441.
For more information on all of these games, head over to our sister SB Nation sites:
Maize N Brew, Black Heart Gold Pants, Corn Nation, The Daily Gopher, Bucky's 5th Quarter, Hammer and Rails, The Only Colors, The Crimson Quarry, Sippin' On Purple, Land Grant Holy Land, The Champaign Room
And finally, Go State.
More from Black Shoe Diaries:
Follow @BSDtweet on Twitter
And join us on Facebook
All BSD community members should review our current Posting & Commenting Policies before creating any posts or commenting.