I'm sorry, did you really expect somebody else to be garnering the top spot on this countdown? We end of our series with none other than Saquon Barkley, who will be the leader of what should be one of college football's most loaded backfields.
How He Got Here
A 4-star recruit and one of the most-hyped members of the 2015 class, Barkley was actually once a Rutgers commit before James Franklin and his merry crootin' men swooped in with an offer and ultimately flipped him in February 2014. While the expectations were certainly there upon his arrival on campus a year ago, nobody foresaw just how quickly he would make an impact on an offense in desperate need of more dynamic playmakers.
Despite missing two and a half games due to injury, Saquon became the most productive freshman running back in Penn State football history, rushing for 1,076 yards in total on just 182 attempts for a solid 5.9 yards per carry. He also became only the second freshman in PSU history to go over 1,000 yards rushing (D.J. Dozier accomplished this feat in 1983 with 1,002 yards, himself). More importantly, he provided PSU fans (and the Internets as a whole) with a plethora of highlight reel-worthy moments that you can find by simply Googling his name. As painful as it was watching PSU play offensive football last season, watching them play without Saquon could have met the definition of 'torture' under the Geneva Convention.
What To Expect In 2016
A little bit of this.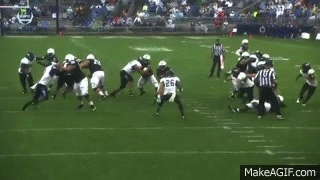 Probably some of this.
Nah, not this. Joe Moorhead eschews the Wildcat.
Oh, and most definitely this!